About two years ago I watched Gilmore Girls for the first time on Netflix. I binge watched all seven seasons in less than a month. Since then I've re-watched the entire series numerous times, falling in love with the show over and over again.
When I first heard about the revival, I was thrilled. Although I was a little late hopping on the Gilmore Girls bandwagon, I felt like I was a resident of Stars Hollow and I couldn't wait to see what my favorite mother-daughter duo was up to.
The first thing I did when I woke up this morning was check Netflix to make sure that all four episodes were up as planned. The second thing I did was run out and get my favorite coffee (because how could you enjoy a Gilmore Girls marathon without coffee?!).
I'm happy to say that I finished all four episodes today. I laughed, I cried and I was left with many, many questions. I'm already thinking about re-watching it (it's not too soon, is it?).
Whether you're watching the revival for the first time or re-watching it for a second (or third or fourth) time, I thought I'd round up a few must-haves to get you through Gilmore Girls: A Year in the Life.
1. Coffee – An absolute necessity in ANY Gilmore Girls binge session. And after waiting almost 10 years for this revival, I think it's safe to say that we could all use coffee in an I.V. My personal favorite is a Caramel Mocha Iced Coffee with Almond Milk and 2 sugars, but any coffee will do!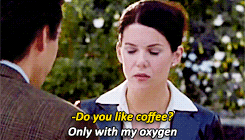 2. Junk Food – It's no secret that Lorelai and Rory love to eat junk food. Today in Gilmore Girls fashion, I am munching on pop-tarts, french fries, ice cream, and potato chips. And of course with it being the holiday season, I have a perfect excuse to pig out on my favorite snacks.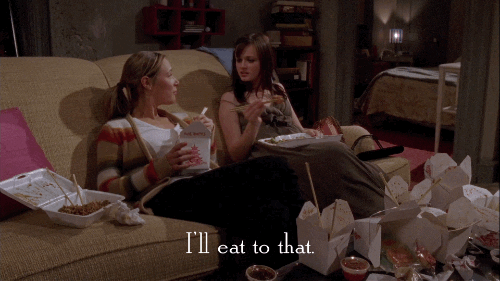 3. Comfy Clothes – Lorelai and Rory sure know how to dress up for Friday night dinner, but they also have no problem rocking pajama pants and Ugg boots. With each episode of the revival being over an hour long, comfy clothes are a necessity! Today I am wearing my comfiest yoga pants and my favorite hoodie, the perfect outfit for staying inside all day.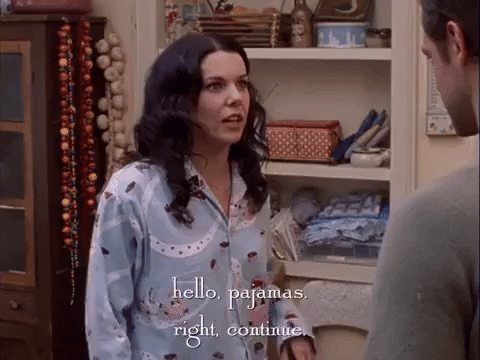 4. Tissues – Let's face it, it's been almost 10 years. You're bound to shed a few tears! By the end of episode four I was a whirl wind of emotions and I definitely recommend having a box of tissues handy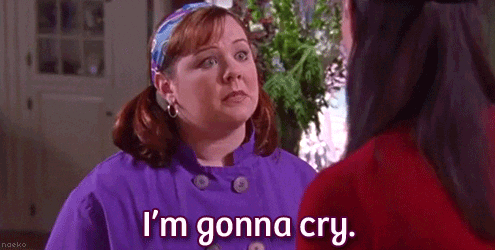 5. A Dog – I spent my day snuggled up and watching the revival with my very own Paul Anka and so should you! And of course your furry friend is going to want to see what everyone in Stars Hallow is up to too!
Well there you have it! I hope you're all watching and I can't wait to hear your thoughts! Comment below with your Gilmore Girls Revival Must-Haves and let me know what you think.